the San Diego Eagle
located at 3040 North Park Way. Utah was there judging the Ms San Diego Leather contest during the first part of San Diego Leather Pride. Don't get me wrong, our Eagle is a great bar, but it certainly is not a leather bar as I remember them back in the 90s. But that got me thinking. As I looked around the Buffalo tonight, it dawned on me that Runs such as this, contest weekends such as MAL harken back to the days when a leather bar was filled with men in leather -- doesn't mean that every man there was a leather man, but you had a higher percentage chance of finding one. These weekends take me back to a time when men did not go to a leather bar unless they were wearing leather... At the very least, a man in levis, belt, boots and a tshirt. It makes me a little sad that it takes events to get the leather men out to our bars. It makes meant to stand up and say to my brothers and sisters -- get out from behind your computer, make this weekend a special event for YOU, support you local leather bar, and show the twinks what it means to be in a leather bar. So far this has been a good weekend. We caught up with our friends Tom and Paul from the UK and Mark from Canada.
Mr Palm Springs Leather
Brought to you by the Palm Springs Leather Order of the Desert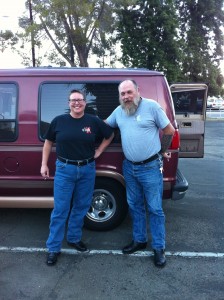 For this event I actually did take some pictures. But can't find my camera cord right now, pictures will be coming soon! Because of a commitment to the Hard Edge, we were not able to make it to Palm Springs until Saturday afternoon. We had the honor of being transported to Palm Springs by Tiger and her van "Lucie" who rides on for Cumho tires. -- This is a running joke in San Diego, so I had to mention it here! We arrived with enough time to pick up Duff and have a bit of dinner before heading out to the contest. We headed out for the contest at the Palm Springs convention center. We got there with a little time beforehand to say hi to people and for Tiger and I to hand out some passes for San Diego Leather Pride coming up in March of 2011 (for more information you can go to Mr San Diego Leather. It was great seeing so many familiar faces there! We enjoyed the contest, and all three contestants did a great job representing their own titles while competing for the Mr. Palm Springs title. No two contests are alike, and I have to say that the Mr Palm Springs contest is a top notch affair. The work that went into putting this contest on was impressive. After the contest, we headed back to the hotel and spent a quiet evening. Surprising huh? But Daddy and I haven't had a lot of opportunity to spend time together, so we took advantage of that. On Sunday, we met up with Jose (American Leather Man 1992), Randy (American Leather Man 2008), Alex, (American Leather Man 2009), and Louie (American Leather Man 2010) for an ABW photo shoot. It was a fun experience! I am looking forward to seeing the pictures!! On the way home, we were treated to a fantastic sunset. And I got a totally unexpected totally cool shot that I wanted to share here.